Rebild bakker is one of the most beautiful places in Denmark, and well worth a visit if you ever find yourself in Northern Jutland Denmark. I had not been there in ages, and decided it was time for a little hike through the hills to enjoy the scenery in "Golden Hour". And i thought, what can be better for a hike, than bringing my heaviest cameras, yes "plural". So i Brought my Bronica SQ-Ai with 150mm Lens, which i just got a new SQ-A house for, and lets just say, i left that one in the car, after it got stuck after a couple of shots……….and the other backup camera i brought was my Pentax 645 with the GINORMOUS 80-160(Im danish, im excused for making up english words). But see the picture down below, where i lined it up next to my Fujifilm X-100f :). Its a monster, but it usually delivers ! And the 80-160 its the only lens i have for it, so it could probably be a lot smaller with a prime, plus its actually a really good workout in these covid19 times, where the fitness centers are closed.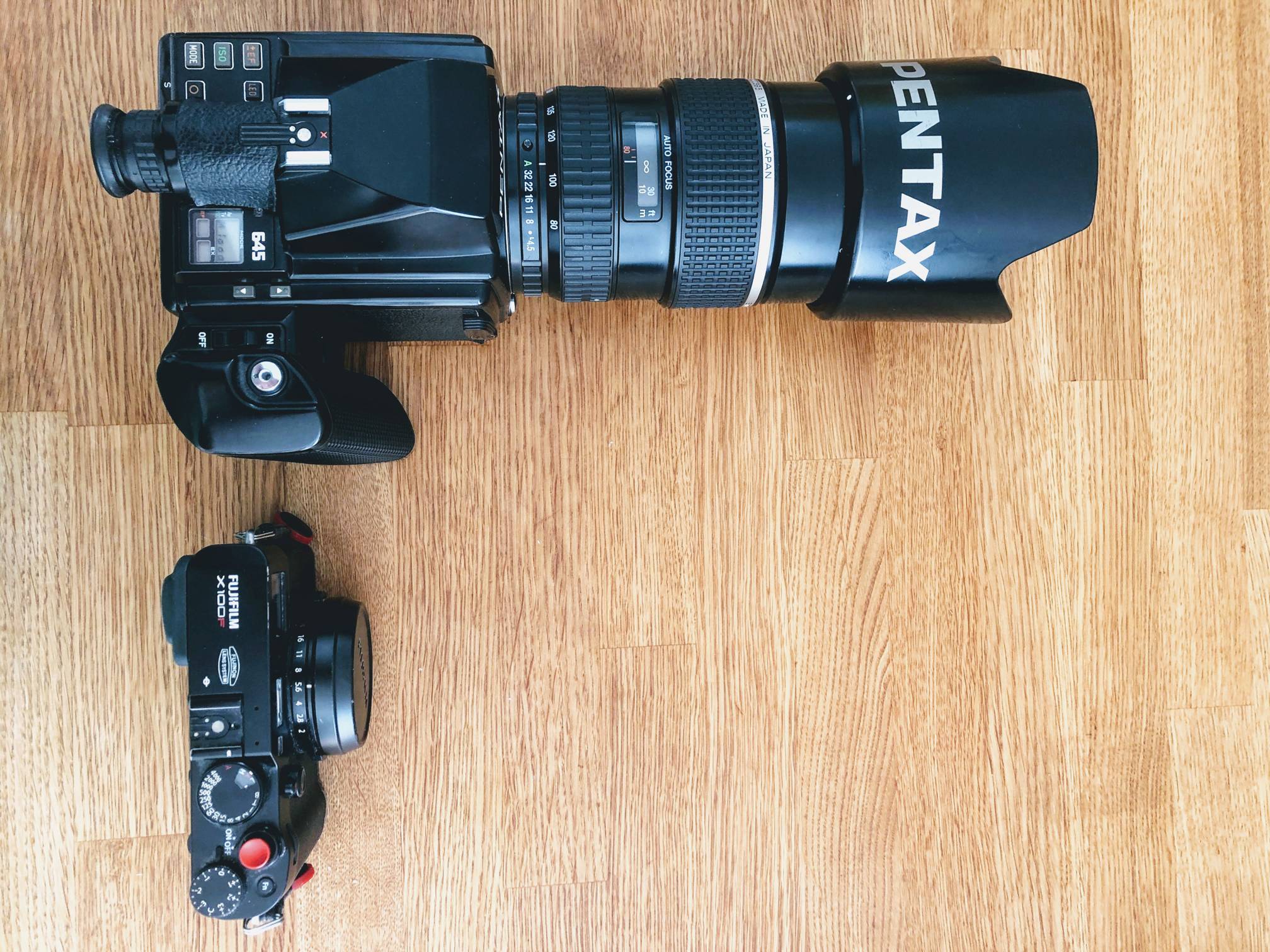 I brought several rolls of film to test something different, so i brought Portra 400, Fuji Pro 400H, Lomography 100 and some Fomapan 400. I have added picures from the different films below, so you can see for yourself. And now for some Portra 400 shots, all taken with the heavy Pentax 645, which i lugged around these beautiful hills, while huffing and puffing 🙂
Next up we have the Fuji pro 400H, shot on the same heavy gear 🙂
And almost finally we have a few shots from the Lomograpy 100 120 film, i actually like that film quite a lot, its a good cheap alternative to the more expensive Portra/Fuji series, making it accessible to most people! 🙂
And finally we have the Fomapan 400, the only black and white guest film of the day. Im not especially fond of Fomapan 400 for landscape, and the pictures below did not change that opinion, it just gets to grainy for my taste. Might be me doing something wrong in the development, it like Fomapan for gritty street and portrait, but not for landscape.